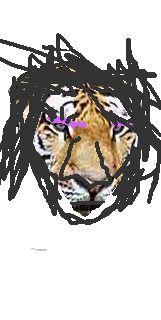 This is a picture of my mom. It doesn't really look like her. I was just experimenting with art. I saw a book about Keith Haring. He is my favorite. Now I want to draw like him.
My mom says she thinks it looks just like her.
I think she was just trying to make me happy.
I think it looks more like me. That's what happens when I draw people. They look more like me.
Tomorrow we're going to the Museum. It's a real big deal. We don't go anywhere anymore. Maybe, the 7-11. That's about it.