The Oscars are part of a long and financially costly campaign for Hollywood. Each studio rallyies behind the films in their roster with the biggest star power/chance to win. This can often change over the year as box office sales and critical reviews shift the popular vote.
To put the race in the proper perspective, let's look at the financial earnings and studio pedigree of this year's nominees before we begin:
"Gravity," Warner Bros., $256,314,185, 10 nominations, released Oct. 3, 2013.
"Captain Phillips," Sony, $105,010,295, six nominations, released Oct. 10, 2013.
"American Hustle," Sony, $103,565,129, 10 nominations, released Dec. 12, 2013.
"The Wolf of Wall Street," Paramount, $80,741,968, five nominations, released Dec. 25, 2013.
"12 Years a Slave," Fox Searchlight, $39,002,295, nine nominations, released Oct. 17, 2013.
"Philomena," Weinstein Co., $22,324,543, four nominations, released Nov. 22, 2013.
"Dallas Buyers Club," Focus, $16,769,169, six nominations, released Nov. 1, 2013.
"Her," Warner Bros., $9,900,985, five nominations, released Dec. 18, 2013.
"Nebraska," Paramount, $8,477,367, six nominations, released. Nov. 15, 2013.
Obviously, Warner Brothers and Sony need to make a choice between their two contenders. Based on the latest polls, HER is not going to be a breadwinner over GRAVITY, so don't expect it to win anything other than a screenwriting award. It may also be clear to some that AMERICAN HUSTLE has been Sony's major push over CAPTAIN PHILLIPS, so bear this in mind as you compile your predictions.
So, without further ado, here are my Oscar predictions based on financial earnings, popularity, and intuition:
BEST PICTURE: GRAVITY, AMERICAN HUSTLE, or 12 YEARS
My family watched a screener of GRAVITY this
past Christmas, while I read articles on the Internet in the other room. I could tell from about ten minutes of hearing the film that it wasn't for me, but that it would be appealing to audiences for its tight-wire act and CGI wonder. The music was constantly crescendoing and then there would be worried muffles from Bullock's character that went the whole 90 minutes--eh, gad!
Still not convinced?
What made the most money this year?
12 YEARS A SLAVE I actually saw in theaters. It was a good piece that was beautifully shot and well acted. It deserves to win, but it'll take second seat to the technological wonder that is the Oscars. But, who knows? The recent racial divides on Macklemore and Kendrick Lamar at the Grammy's do point a finger at the continued issues around race in America. Academy members might react to this and choose 12 YEARS, but I doubt it. The beckoning of "space" and "CGI" will be too much for audiences. Remember, films seem better when they have technological spectacle, and DO THE RIGHT THING lost to DRIVING MISS DAISY, so why would a real racial depiction of slavery do well? It's highly unlikely.
For people that actually suffered through AMERICAN HUSTLE -- one of the most mediocre films ever made, but with an incredible marketing campaign and slew of star power to help zombies overlook it -- you may find the film winning an Oscar. It is possible. If it does, then this would be the worst outcome of this year's Oscars. That's why it just might.
No one probably saw any of the other films nominated, but let's be honest, none of the others have the campaigns these three do to take home the gold. Let's also say it again: which film made the most money?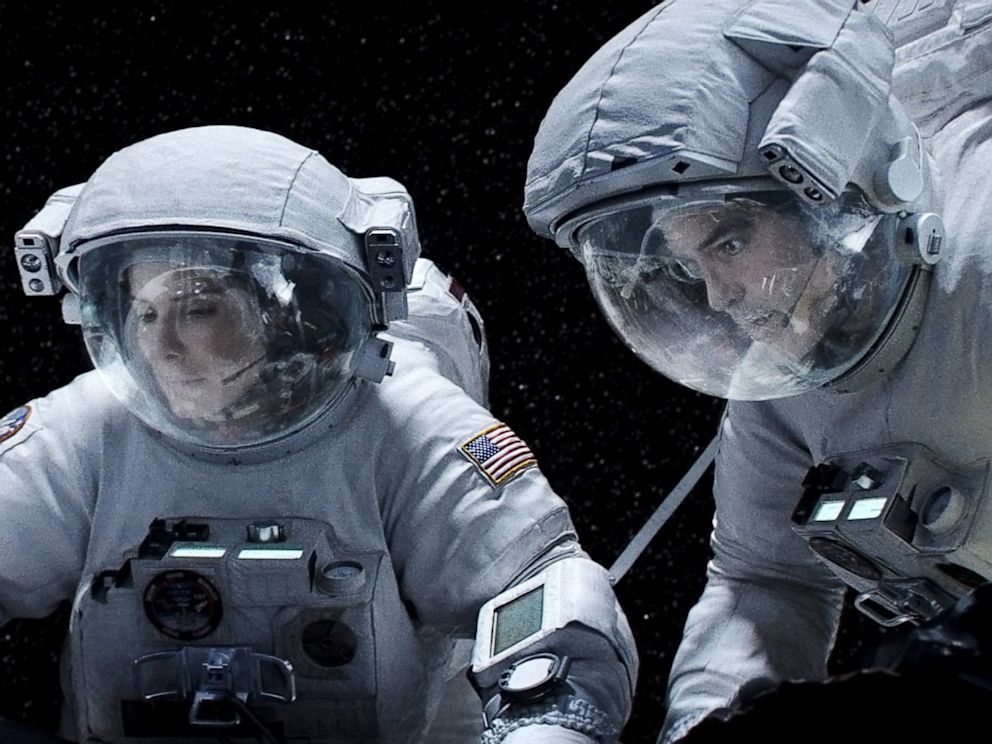 BEST PICTURE:

GRAVITY

BEST DIRECTOR: Alfonso Cuaron or Steve McQueen?

Las Vegas odds:


Alfonso Cuaron ("Gravity") 1/2 Steve McQueen ("12 Years a Slave") 2/1

This is the same scenario as the Best Picture category. It'll most likely go to Cuaron for his technical prowess, but it really deserves to go to Steve McQueen or Martin Scorsese, who had the best films of this year. There could be an upset, but I doubt it.

BEST DIRECTOR:

Alfonso Cuaron

I really have nothing to say about the rest of these acting awards, so let's just give it to the people who had the best campaigns, political correctness, and whose roles make Academy voters feel more at ease with the status quo.

I have also listed Las Vegas odds (in italics below), which believe that Chiwetel and Nyong'o will win, so be ready for some upsets here and potentially for Best Picture. We'll know how things are going if Nyong'o wins early in the night.

BEST ACTOR:

Matthew McConaughey


Chiwetel Ejiofor ("12 Years a Slave") 6/5 Matthew McConaughey ("Dallas Buyers Club") 7/5 BEST ACTRESS:

Cate Blanchet


BEST SUPPORTING ACTOR:

Jared leto


BEST SUPPORTING ACTRESS:

Lupita Nyong'o

or Jennifer Lawrence Jennifer Lawrence ("American Hustle") 4/5 Lupita Nyong'o ("12 Years a Slave") even

I predict that the next categories are for the folks that should have won in all other categories and make Academy members feel better about their previous choices being so vanilla and predictable.
BEST ORIGINAL SCREENPLAY:

HER


BEST ADAPTED SCREENPLAY:

12 YEARS A SLAVE
I doubt many Academy members have even seen any of the films in the foreign category. There's too much to do. They just watch trailers and choose based on what they hear is the right choice. THE GREAT BEAUTY won the Golden Globe, so it'll get the most votes, but there will be others who are curious about THE HUNT, since it has the guy from the James Bond films. Why not, right? It really is a crap shoot. Let's go with THE GREAT BEAUTY to be super boring because that's what the Oscars are.

BEST FOREIGN LANGUAGE FILM:

THE GREAT BEAUT

Y BEST DOCUMENTARY:

THE ACT OF KILLING

I've actually seen most of the documentaries this year. They were probably the best films of this year -- much better than AMERICAN SPAM. But the Academy will choose the film with the most heat behind it, which has been THE ACT OF KILLING.

The actual best documentary of this year was CUTIE AND THE BOXER.

BEST ANIMATED FEATURE:

FROZEN

The animated feature category should go to the best film, which will always be a Miyazaki film, but the fact that the film deals with a WWII bomber has made it an unpopular vote, so the Oscar will most likely go to another Disney film -- FROZEN. Why? Because that's what all your kids will watch because it has good songs and is what they're supposed to watch.

BEST CINEMATOGRAPHY:

GRAVITY

Um, GRAVITY, because it's about space and seems pretty is a good enough reason for it to win in all choices, but it'll probably be a little bit of the film's well-publicized technological efforts of how it took more than four years to figure out how to accomplish the digital magic tricks that make it a favorite for all statues in the technical categories.


BEST EDITING:

GRAVITY


BEST SOUND MIXING:

GRAVITY


BEST VISUAL EFFECTS:

GRAVITY


BEST SOUND EDITING:

GRAVITY

BEST PRODUCTION DESIGN:

THE GREAT GATSBY

BEST COSTUME DESIGN:

AMERICAN HUSTLE

Usually production design and costume awards go to the period piece, futuristic film, or most lavish budget.

What is the period piece this year? Probably split the award with AMERICAN SPAM. Why? The wigs, right?

BEST ORIGINAL SCORE:

GRAVITY

The best score goes to the most memorable film, which is usually the one that had the greatest emotional impact, so it'll most likely be GRAVITY or 12 YEARS, right?

BEST ORIGINAL SONG:

FROZEN

Song always goes to Disney, doesn't it?

BEST MAKEUP:

DALLAS BUYER'S CLUB

Can you believe that Jackass will win an award? Maybe. I don't think so though. It would seem out of place.

BEST ANIMATED SHORT:

GET A HORSE

BEST DOCUMENTARY SHORT:

THE LADY IN NUMBER 6

BEST LIVE ACTION SHORT:

THE VOORMAN PROBLEM

So there you have it folks. This year's Oscars. The upsets that'll get people talking at the awards parties will be Dicaprio winning over McConoughey and one of two of the other awards going to an unexpected or deserved winner, such as HER or CUTIE AND THE BOXER.