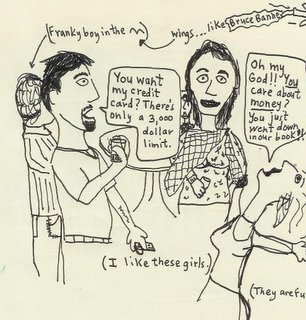 Two girls tell it to me straight.
"We don't care about money."
"Oh, yeah?"
"Yeah," they say. "
You
just went
down
in
our
book."
I think about this for a minute.
Mmmm
, I think. Okay. They don't care about money. I think I do. I think I like making money. Money is not a bad thing.
"Okay," I say. "I hear you."
I wonder why some people don't like to talk about money.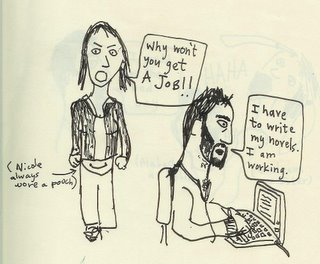 I used to not like talking about money. Whenever my ex-wife brought it up, I would say, 'I have to concentrate on my art. I can't work and write novels at the same time.'
Now I know I was wrong.
I am glad about that. It would have been tough to carry that story around, and expect to take care of myself.
I learn though. 'Bit by bit,' as
Dacheux
says.
Speaking of which, Dacheux and I had a nice soda at the Sabe tonight.
I loved how she called me out on my interaction with these cool girls I met.
"The one girl said her dream guy was a Rated G comic," I told her.
"Oh, that's perfect," Dacheux says.
"Yeah," I say. "But I could be the bad boy too. I got that in me."
"Yeah, right," she laughs. "You could never be the bad boy."
"Yeah, I guess you're right. But, you know what I said to her after she told me she liked G rated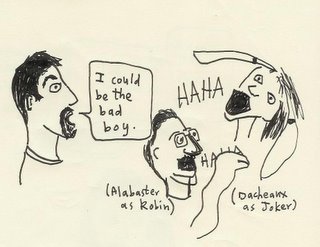 comics, I was like, 'Fuck, that's great--I mean--excuse my language.' "
Alabaster
, Dacheux's boyrfriend, cracks up at this. I am glad. He cracked me up with his whole penis puppet. He showed me a clip of Saturday's show at the
UCB Theater
. The skit was for the most foul sketch comedy show.
Alabaster (Allan) made a gigantic penis dance from his crotch and make lemonade. Hopefully he'll post it on his blog. Until then, you can read about it on
JP
osatko's
blog
.
Now I am going to draw the pictures that go with this text, as I saw it when I was writing.
Man, I'm like Jay-Z, what's up.
And on that note, one of the last interactions with the girls who don't like money.
"Oh, it's clear you love yourself," one says.
"Yes," I say. "That's true."
It will be nice to hang out with these new friends. The plan is Karaoke on Sunday. Maybe, we will talk about money. Who knows? If it does, I will tell you about it.
Bye,
P to the Z and not Q
p.s. i am
pss. so hum...